Valentine's Day
The month of February has never been the same ever since the folks at Hallmark figured out how to mass produce Valentine's Day cards after the Industrial Revolution. No matter your lot in life: single, remarried, or barstool troubadour, many of us will spend a certain amount of scratch on food, drink, or entertainment, all in honor of Cupid's wayward arrow. This year Valentine's Day falls on a Thursday, so special V-day plans can be arranged for the weekend or can be parlayed into a weeknight happy hour or a wine dinner. The South Bay makes for a fine romantic destination for couples and even singles. Here are some Valentine's Day options for the weekend:
On the Beach
To Build a Bonfire Tap your inner Jack London and feel what the olden days were like when surfing and bonfires on the beaches were annual rites of passage. A naturally rustic type of romance, there are two places in the South Bay where couples can legally build a bonfire. Dockweiler State Beach in Playa Del Rey sits parallel to the Marvin Braude Bike Trail (aka The Strand) and houses about 40 fire rings which are available dawn till 10:00 p.m. Get there early on the weekends to claim a fire ring and parking is free on Visa Del Mar. Visit Dockweiler State Beach's website for more information.
Cabrillo Beach in San Pedro is a neighborhood delight complete with the Cabrillo Marine Aquarium where admission is free. There are about 12 fire rings here and parking costs one dollar per hour. Cabrillo Beach is open from 9:00 a.m. to 10:00 p.m. and is located at 3720 Stephen M. White Drive in San Pedro.
Quaint Itineraries
Whale Watching 'Round the South Bay: Make your own tally of blow-holes and breaches this season from a safe and curated distance aboard the many operations that make a living out of educating whale watching fans & tourists. Go to sea any day of the week through mid-April in search of migrating Pacific gray whales and a host of other marine life including dolphins, seals and sea lions. Here are some ports of entry for whale watching adventures around the South Bay. All boats are staffed with a trained naturalist from Cabrillo Whalewatch, a joint effort of the Cabrillo Marine Aquarium and American Cetacean Society/Los Angeles Chapter.
Take a Drink at the Chart House in Redondo Beach – Great ocean views make for some serious romance all against the backdrop or a reasonably priced bar menu. The Chart House still retains some of its old-school class as the Redondo Beach location has been open since 1969. Sip on some martinis and then order a round of Prime Rib Sliders & Steamed Mussels. If dinner at the Chart House is in the works, a reservation is strongly recommended. The Chart House is located at 231 Yacht Club Way Redondo Beach, CA, 90277.
Take a Stroll through Old Town Torrance – Classic can be romantic and that's the general feeling in Old Town Torrance. Peruse antique shops, a Foster's Freeze, or barter for something nostalgic at one of the many pawn shops. Buy your sweetheart a cupcake at Torrance Bakery and end the night at The Depot Restaurant. Find Old Town Torrance on this Google map.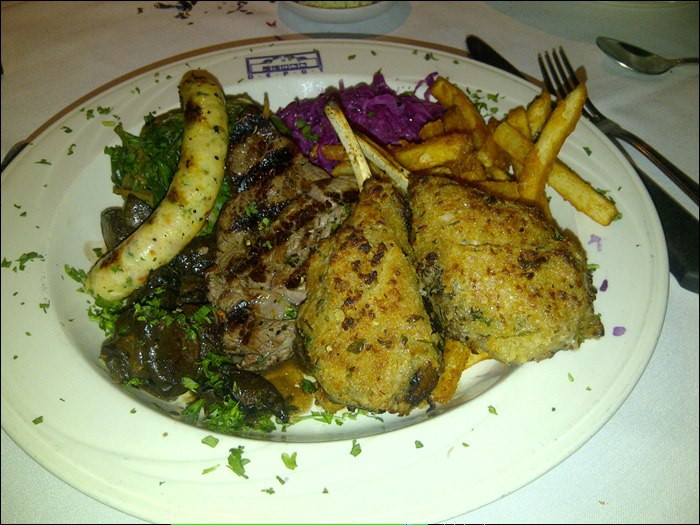 Dinner at The Depot: The Big Cat Mix (Mustard-Crusted Lamb Chops, Petit Fillet, Rock Shrimp Sausage, Fries, and Red Wine Mushroom Sauce / Photo by South Bay Events / Scott Hayes).
Bikes on the Strand – Pedal together on the strand from Torrance Beach all the way to Playa Del Rey, the views are gorgeous and all that exercise easily justifies a drink or two at any one of the bars or restaurants that parallel the strand. Visit Hermosa Cyclery if your date or you don't have access to a beach-cruiser.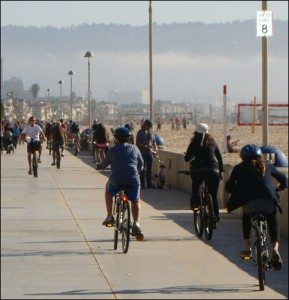 Picnic at Abalone Cove Shoreline Park – The natural Mediterranean landscape comes to life in Rancho Palos Verdes which makes Abalone Cove a perfect spot for a picnic and some tidepool exploring.  The park closes at 4:00 PM but you might even catch a glance of a migrating Gray whale or two so be sure to bring a camera. Parking will cost $5 and Abalone Cove is located at 5970 Palos Verdes Drive South, Rancho Palos Verdes.
Take a Day Hike up on the Peninsula The Palos Verdes Peninsula offers some of the most grand Mediterranean vistas, sea-side coves for exploring, tide-pools for a little touching, and switch-back trails for the novice or the weekend warrior. Easy strolling for the romantically inclined during sunset or sunrise make for some stellar Kodak moments. Amble around near Portuguese Bend, Sacred Cove, or Point Vicente. Most hiking trails and nature preserves are managed by the Palos Verdes Land Conservancy, visit their website for a full break-down or trials and day-use options