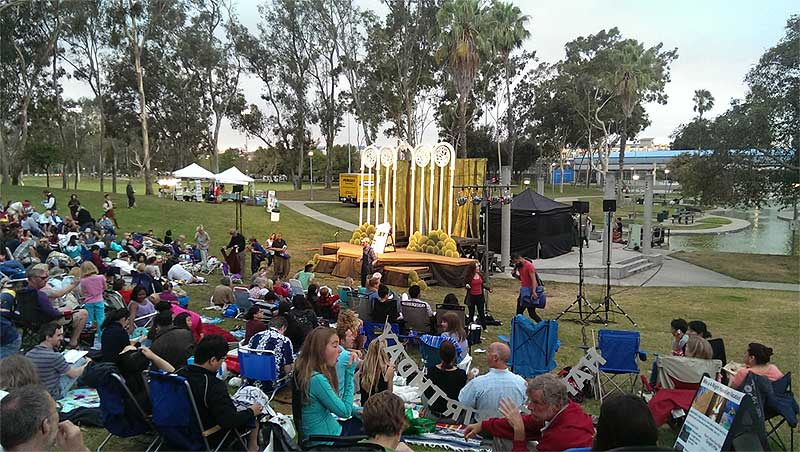 Believe it or not, the community driven, grant funded organization that barnstorms our local parks with professional theatre quality interpretations of England's best known bard every summer, Shakespeare by the Sea, is currently in their 20th season. A true gift for all ages since the cost of admission is free and there maybe no other form of entertainment as personable as watching live actors perform under the wits of public space and open air. Shakespeare by the Sea returns this summer with it's first South Bay performance on Sunday July 9 at Hesse Park in Rancho Palos Verdes. This year the traveling troupe plays a comedy, "The Taming of the Shrew" and a tragedy, "Macbeth" with live performances on various weeknights and weekends around the beach cities until their grand finale at Point Fermi Park in San Pedro August 18 & 19.
The closing venue for Shakespeare by the Sea's summer run offers a little paid-pampering for those that prefer stage-side dining in what is called the Bard's Box. It is a premium ticket that includes the following according to SBTS website:
"Premium reserved cushioned seating with blankets to keep you warm. A boxed festival meal of your choice with bottomless beverages and a mouthwatering array of tasty treats available at our intermission dessert bar. It's a great way to make the most of Shakespeare by the Sea!"
Bard's Box tickets are $65 and and can be purchased online. Both Friday and Saturday's performance at Point Fermin start at 8 p.m. and it is a good idea to get there early with chairs and blanket in hand. All performances are free to the public. The tour has become a much-anticipated event each summer, drawing a collective audience of nearly 25,000 each summer to enjoy Shakespeare under the sky.
2017 SBTS South Bay Schedule
Rancho Palos Verdes: Hesse Park 29301 Hawthorne Blvd, 90275 Sunday, July 9, 2017 – 7:00pm: Taming of the Shrew
Hermosa Beach: Valley Park Valley & Gould, 90254 Wednesday, July 12, 2017 – 7:00pm: Macbeth & Thursday, July 13, 2017 – 7:00pm: Taming of the Shrew
San Pedro: Marine Mammal Care Ctr. 3601 S Gaffey St, 90731 Friday, Jul 21, 2017 – 7:00pm: Taming of the Shrew
Torrance: Wilson Park (by pond) 2200 Crenshaw Blvd, 90501 Friday, July 28, 2017 – 7:00pm: Macbeth &  Saturday, July 29, 2017 – 7:00pm: Taming of the Shrew
Manhattan Beach: Polliwog Park 1601 Manhattan Beach Blvd, 90266 Friday, Aug 11, 2017 7:00pm: Macbeth & Saturday, Aug 12, 2017 – 7:00pm: Taming of the Shrew
Rancho Palos Verdes: Terranea 100 Terranea Way, 90275 ($10 parking, no outside food, cash bar & picnic cuisine available.) Thursday, Aug 17, 2017 –  7:00pm: Macbeth
Grand Finale – San Pedro: Point Fermin Park  (Point Fermin Park is at the Southern end of Gaffey – it literally ends at the park.) 807 Paseo del Mar, San Pedro, CA 90731 Friday, August 8, 2017 – 8:00pm – Macbeth & Saturday, August 19, 2017 – 8:00pm: Taming of the Shrew