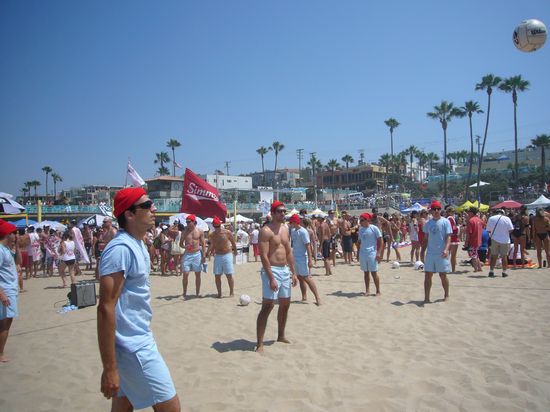 Last week Manhattan Beach city council members approved an agenda measure that allows the Charlie Saikley 6-Man Beach Volleyball Tournament to run operations closer to the weekend this summer on Friday, August 4th & Saturday August, 5th, making it much more accessible to South Bay beach volleyball enthusiasts and sponsors. Expect to hear loud, costumed cheers in beach city cubicles and casual dialogue ring anew as the Manhattan Beach Pier once again plays backdrop to an iconic event that simply became out of sync with it's identity when it was regulated to a week-day format in 2012. After a long debate about large crowds and public nuisances created by 6-Man tournaments, Manhattan Beach appealed to worrisome residents and moved 6-Man first to a Tuesday-Wednesday schedule and last summer ran it Thursday to Friday.
Hopefully 6-Man gains a little re-birth now, its a long-standing tradition that plays through generations of South Bay residents, past and future, and embodies a unifying spirit where an amazing time is generally had by all attendees.
The 6-Man Volleyball Tournament takes place on Friday 8/4 and Saturday, 8/5 at the Manhattan Beach Pier from 8:00 a.m. to 5:00 p.m. both days. The spirited revelry and unique costumes will continue on as part of the fun and tradition of 6-Man. Registration is now open and will close on 7/31. Visit wwww.citymb.info/city-officials/parks-and-recreation/ to learn more about registering your team or becoming a sponsor.
(Photo: 2009 6-Man Tournament by South Bay Events)