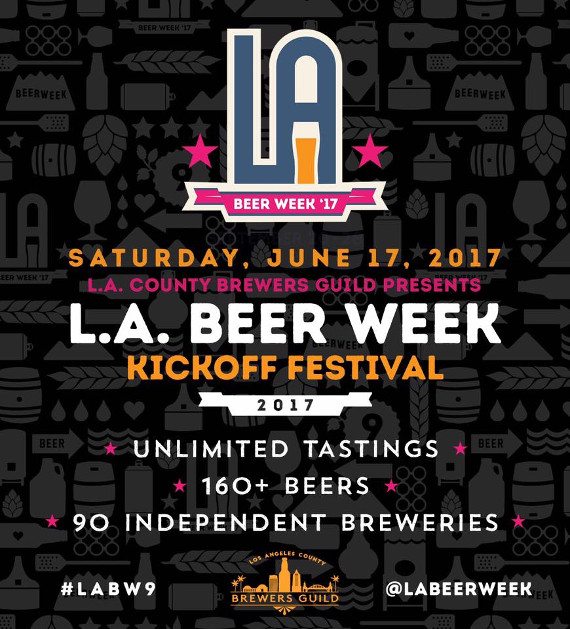 Posted June 8, 2017 – Check out L.A. Beer Week in the South Bay, a page dedicated to the ever-loving expansion of craft beer into the marketplace, throats, and taps of the South Bay and beyond.
Rise and shine elbow benders, L.A. Beer Week round nine is coming to a bar, bottle shop, pub, lectern and brewery near you. The epic steam engine that has become the craft beer industry in L.A. and South Bay locales meet for a week, June 17 – 25. Presented by the Los Angeles County Brewers Guild, #LABW9 (official hash-tag) taps into summer with their 6/17 LA Beer Week Kick-Off Festival on Saturday. Venue for kick-off event is Los Angeles Center Studios in Downtown L.A. Expect food trucks, at least 90 breweries, craft beer education and live music. General admission tickets are available at $50 per person.
L.A. Beer Week events in the South Bay peak during the middle of the week at Naja's Place, the most eminent elbow bending spot on the seedy side of the King Harbor Marina, with the Battle the Guilds event on Wednesday night June 21. California brewer guilds from L.A., San Fancisco & San Diego and member breweries meet to pour specialty brew for the legal drinking public. You, the beer drinker, get to vote on what tastes best. All you need to do is pay for your pours. Winning brewer with the most votes takes home the Golden Keg.
L.A. Beer Week is in its 9th term as a not-for-profit craft beer event with ever increasing popularity driven by a cadre of volunteer supporters, the Los Angeles County Brewers Guild, and a DIY craft beer spirit that have built a platform to celebrate the local craft beer scene that is alive and thirsty in LA and around California.
In the spirit of a unified craft beer community, LABG members selected local hop-heads El Segundo Brewing Co. to release the official beer of L.A. Beer Week, which is always called Unity. ESBC is well schooled in boiling a rainbow of flavors and aromas from all types of hop varieties, so it's no surprise that they brewed up an IPA beer. According to their newsletter, the IPA includes, " Local CA citrus zest and juice – which was all hand done by a large group of passionate L.A. Brewers." In sync with ESBC's ethos on fresh beer, Unity also gets the Day One treatment, meaning on June 9 when its bottled, ESBC self-distributes Unity all over its LA County locations.
Bars, pubs, restaurants, bottle shops, and local breweries, will weave together special food pairing events, tap takeovers, some beer education, and tastes all in honor of L.A. Beer Week's 9th round…
LA Beer Week Events in the South Bay
As we've done in the past, below you'll find a list of South Bay venues and craft breweries that will be serving up something special for this year's LABW 9. Check back every couple days as we'll be adding events throughout LABW 9. If by chance you are in Eagle Rock, San Gabriel or happen to migrate outside the bubble (South Bay) be sure to scroll down the list of L.A. Beer Week events happening all week at L.A. Beer Week's official events page.
6/16
Special Release IPA at Smog City Brewery & SteelCraft
Noon to 10:00 p.m.
Smog City gets a head-start on LABW 9 when they put a little mango in their Hoptonic IPA for a special bottle release on Friday June 16. Available at their Torrance location (1901 Del Amo Blvd. 90501) and SteelCraft in Long (3768 Long Beach Blvd. 90807).
The Night before LA Beer Week with Modern Times
5:00 p.m. to 10:00 p.m.
Select Beer Store in Redondo Beach's Riveria Village also gets in a warm-up event in before LABW 9 when they pour various draft handles from San Diego brewer Modern Times on Friday night. Location:  1613 S Pacific Coast Hwy, Redondo Beach, CA 90277
6/17
9th Annual LA Beer Week Kick off Festival
1:00 to 4:00 PM
The largest number of Los Angeles craft breweries set-up shop in Downtown LA for an all out, beer-terrific Kick Off festival that features at least 90 breweries to taste from, food and live music. $50 General admission ticket include a commemorative glass and unlimited tastings. Location:  Los Angeles Center Studios tickets
6/18
Live Music & Food at Brouwerij West
Noon – 9:00 p.m.
San Pedro based brewery, Brouwerij West, is slowly making the Port of Los Angles a tourist destination for craft beer fans around the South Bay and will showcase a long list of independent music and eats on Father's Day June 18th during LABW 9. Local bands and food trucks accompany a special Non-Belgian beer called Popfuji (German style Pilsner). No cover charge, Brouwerij West is lcoated at 110 E 22nd St. in San Pedro.
Father's Day Atomic "TV Dinner" Soirée
11:00 a.m. to 6:00 p.m.
Phantom Carriage Brewery in Carson preps a Father's Day TV Dinner event for LABW 9 complete with puckering suds, classic Sci-Fi flicks from the 1950s (i.e. The War of the Worlds, 1953) and some vintage cellar beers available for purchase Sunday starting around 11:00 a.m. No reservations required. Phantom Carriage Brewery is located at 18525 S. Main Street in Carson.
Rarest of the Rare at Smog City Brewing
11:00 a.m. to 9:00 p.m.
Smog City has brewed new special releases, stockpiled past favorites and they are ready to blow the roof of the proverbial Beer Palace. Expect special beers that have been barrel-aged, some sour beers and a melange of experimental beers from the last last year or two. This is not a ticketed event but you should expect a crowd for good reason, take a look at some of the beer offerings on LA Beer Week's event listing to gauge what's for sale and and to see what Smog City has been storing in their cellar. Smog City is located at 1901 Del Amo Blvd #B in Torrance.
Three Weavers Brewing Host Yacht Rock Costume Party at Naja's
6:00 p.m.
Costumes, Yacht rock and craft beer meet up again for the second time during LABW 9 aboard Naja's Place dockside along the International Boardwalk (Redondo Pier). Yacht like beers to be poured from breweries like Beachwood, Noble Ale Works, El Segundo Brewing and more. Costumes are highly encouraged;
6/19
Kick the Keg at City Tavern in Culver City
6:00 p.m.
Kind of a LA Beer Week tradition now that involves some friendly backyard competition where City Tavern invites various brewers to each bring a special keg(s). The first keg to go dry is crowned king or queen. The taps go live at 6 p.m. and City Tavern is located at 9739 Culver Blvd ; no ticket needed for this event.
6/20
So You Wanna Open A Brewery? Vol. 6
7:00 p.m. to 10:00 p.m.
Join moderator Tomm Carroll, LA correspondent for The Celebrator Beer News and columnist / writer for Beer Paper LA, for this sixth annual LA Beer Week panel inside Los Angles Ale Works (Hawthorne). Brewers who have started brewing professionally in Los Angeles or who are in the process of opening breweries in and around Los Angeles discuss the challenges of getting craft beer to the public. Admission is free. Location: Los Angeles Ale Works, 12918 Cerise Ave, Hawthorne, CA 90250
6/21
Stone Brewing Tap Take-Over at Quality Seafood
7:00 p.m.
On any given South Bay weekend along Redondo Pier's most classy fish and seafood market, Quality Seafood, you will find an ethnically diverse crowd hunched over an array of communal tables tactically devouring crustaceans, sea urchins, lobster heads, shellfish, whole fish (broiled or fried), and other edible sea creatures. On Wednesday June 21st Stone Brewing pours at least 8 draft handles at Quality Seafood in honor or LABW 9. Location: 130 International Boardwalk, Redondo Beach, CA 90277
Battle of the Guilds at Naja's Place
6:00 p.m.
Three California brewers guilds will join forces for one giant tap takeover at Naja's Place Wednesday June 21st for the traditional Battle of the Guilds. This event is designed to showcase all that these organizations have to offer. Taste your way through a selection of Los Angeles County Brewers Guild, San Diego Brewers Guild, and San Francisco Brewers Guild breweries and cast your vote to see who will inherit the prized Golden Keg. Naja's Place is located at 154 International Boardwalk on the Redondo Pier. No ticket needed for this event.
6/22
Sour Bash at Phantom Carriage
5:00 p.m. to 10:00 p.m.
Most nights a Phantom Carriage Brewery in Carson you can find a classic or B-rated horror film playing on the walls and during LABW 9, the tradition continues with a cadaver sized movie list of 80s horror-themed thrillers on Thursday night. Phantom also releases their third collaboration beer with Cascade Brewing, a barrel-aged mixed fermentation Dark Sour. Phantom Carriage is located at 18525 S Main St. in Carson.
6/23
Rob Rubens Distilling & Brewing Tap Take-Over at Quality Seafood
Noon
Take in the glory of sea-salted air and fresh from the market seafood when Rob Rubens Distilling & Brewing take over at least seven draft handles along Redondo Pier's International Boardwalk at Quality Seafood. Location: 130 International Boardwalk, Redondo Beach, CA 90277