Check out the South Bay Events' full listing of what's going on in the South Bay this Halloween weekend 2018!
The pomp and circumstance of Halloween takes over the psyche of the South Bay on Halloween weekend as horror movies, scantily clad maidens, house parties, and creative costume impulses become standard activities. Halloween is an awesome reason to party and this year South Bay folk will have at least one weekend plus Halloween night to relish in traditional rituals like bobbing for apples, bad decisions, bar-hopping, and costume critiques. This year October 31st falls on a Wednesday, so that means some of the action will be in the preceding weekend. Before you rummage through your garage or pillage Salvation Army for a makeshift costume, check out Aaardvarks vintage costume & clothing shop in North Redondo Beach for all your Halloween dress-up needs. They're officially closing their doors forever on November 1st, and are having one last massive sale.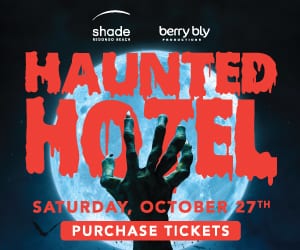 Whether you want to join your family and trick-or-treat around the neighborhoods (see the City of MB's Safety Tips), or join the mayhem taking place at local bars and parties, there will be lots to choose from this year. As Halloween gets closer, the South Bay has some pretty fun traditions that you just don't find in other communities.
Don't miss the start of the Halloween festivities with the 31st Annual Family Halloween Carnival at Manhattan Heights Park. Held on Saturday, October 20 from 10:00 to 3:00 at Manhattan Heights Park, this family-focused event will feature a haunted house, costume contest, a parade and endless food choices.
A fixture on the South Bay party scene for the past decade, the spirit of All Hallow's Eve lives on when Alta House in Hermosa Beach is transformed into a ghoulish night of screams and horrific monster mashing on Friday, October 26. The South Bay's best Halloween extravaganza is produced by Berry Bly and goes by the appropriate moniker South Bay Scream. This year South Bay Scream will feature a sound menu with over seven DJs; highlights include the likes of DJ Dik and Danny Olson mixing & spinning on multiple dance floors, scary creatures, and state of the art productions.  Click here to get your pre-sale tickets online.
New on the scene this year and promising to be one of the biggest parties of the Halloween holiday season is Haunted Hotel at the Redondo Beach location of Shade Hotel. Multi-level dance floors, 3 DJs, VIP tables and much more. The hotel will transform into a haunted party like no other in the South Bay!
Smackfest Events is partnering with Terranea on the spookiest day of the year at the Heroes and Villains themed Halloween Party. On October 26 from 8:00pm – 1:30am join them for dueling DJs, dancing, mad scientist bar, a costume contest with a $1,000 grand prize, and more. They'll have discounted tickets and a FREE party bus from Hermosa to the resort and back (around 1am). More info here!
On Sunday the 28th, the "Kids' Music Fest and Trunk Or Treat" will be taking place at St. Peter's By the Sea in Rancho Palos Verdes and will have a costume contest, musical 'petting zoo', musical games and activities, parent & me activities, and plenty of crafts!
Community tradition runs strong all over Halloween weekend in the South Bay as the 28th Annual World Famous Pumpkin Race rolls its Pumpkin Racecars just above Manhattan Beach Pier Sunday, October 28th starting at 11:00 am. It's a unique event that combines love for competition, creativity, and community. What started in 1990 by a group of friends has become an epic, single-elimination battle of self-styled pumpkins equipped only with two axles and two wheels. Creative carvings and pumpkin costumes are left to artistic interpretation.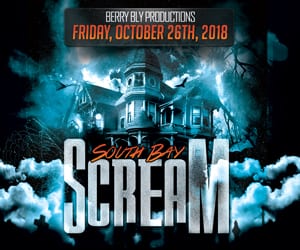 The Riviera Village in Redondo Beach runs all types of seasonal holiday events and this year the Village will be a mecca for families looking to score some solid trick or treating space. Ghosts and goblins will mix with princesses and super heroes as Riviera Village hosts the annual Halloween Trick or Treat on Wednesday, October 31st. Catalina Avenue will be closed to traffic from Avenue I to Palos Verdes Blvd., and the shops will hand out candy and treats from 4 to 6 pm.
The City of Torrance Community Services Department invites the public to enjoy the annual Halloween Carnival on Wednesday, October 31, 2018 from 4:00 to 8:00 p.m. at Wilson Park, 2200 Crenshaw Blvd. The Carnival is a safe, family friendly alternative to trick-or-treating and will feature games, crafts, a photo area, spooky music by DJ Ozzie and costume parade taking place at 6:30 p.m. You can even stop by and check out the pumpkin decorating contest where 15 After School Club sites submit their most creative pumpkin decorations. Unlimited use wristbands are $10.00 per child and are required to participate in a variety of carnival activities that participants can win candy and prizes playing. Food trucks will be on site and available at an additional charge. The event will take place, rain or shine.
The El Segundo Parks and Recreation Department host annual Halloween Frolic Wednesday, October 31st 4 p.m. to 7 p.m. in the 300-400 block of Downtown Main Street. The costume contest sponsored by The Kiwanis Club will be held at the city hall plaza. Wristbands for unlimited bounce house fun and games available at the clubhouse through October 30th. more info
On Sunday, October 28, 2018, over 10,000 locals will unite to celebrate Hispanic heritage as The San Pedro Property Owners' Alliance, a nonprofit organization, presents The 7th Annual San Pedro Dia de los Muertos Festival in Downtown Historic San Pedro from 3:00 p.m. to 9:00 p.m. more info
PARTY SCHEDULE- HALLOWEEN 2018

---
For the slightly older crowd who will be substituting beverages for candy, here are South Bay Events' picks for the best bets at local bars and clubs for Halloween weekend!
Manhattan Beach
Hermosa Beach
---
Redondo Beach
---
There will also be dozens of Halloween parties and other small events going on…check out South Bay Events as the holiday approaches for updates!