South Bay Events' full listing of what's going on for Fiesta Hermosa this Memorial Day Weekend: May 25-27, 2019!
There are few places in the world that wrap up the summer better than Hermosa Beach, California! The long weekend marks the unofficial start of summer around the South Bay as people from all over Southern California make Fiesta Hermosa a Memorial Day Weekend destination. Fiesta Hermosa's 3-day festival, May 25-27, is centered in Hermosa Beach and the city swells with fair food, craft booths, a kiddie carnival, and a beer garden. Running daily from 10:00 a.m. to 6:00 p.m. This is the 47th Annual Fiesta Hermosa, known as Southern California's largest Arts & Crafts Festival. Approximately 300 artists and crafters will be featured this year, including painters, photographers, ceramicists, jewelers, sculptors, and handicrafters. Of course, many people bypass the booths on Hermosa Avenue and head straight to the Beer & Wine Garden! The proceeds all go to charity, so in case you overdo it there will be a silver lining.
There are three stages with quality tribute bands playing live music throughout the weekend- one at the foot of Hermosa Pier, another in the Charity Beer & Wine Garden and a third on Manhattan Avenue near Java Man. The crowd is always fired up, and dancing is highly encouraged.
The Food Court, just south of the Hermosa Pier, is another of the major highlights of Fiesta Hermosa. Make sure to try the famous Kennel Corn at least once during the weekend.
The Kiddie Carnival has all the traditional fair fun you would expect like a petting zoo, mechanical rides, a 30-foot slide, and face-painting. A relatively new feature that keeps the focus on kids is Fiesta Siesta, a tented area north of Hermosa Avenue along Pier Avenue where parents can nurse or change their little ones.
2019 Fiesta Hermosa Details
Music: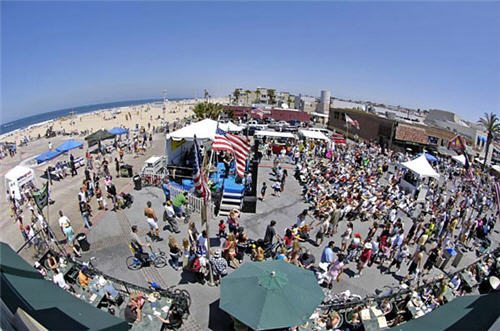 MAIN STAGE
Saturday, May 25
Feed the Kitty (A South Bay favorite for decades)
11:00am – 12:30pm
Alligator Beach (Bringing some Louisiana funk to the beach)
1:30pm – 3:00pm
TBD
4:00pm – 6:00pm
Sunday, May 26
Doug and Butterfly (Award winning tribute to Heart)
11:00am – 2:00pm
Pretzel Logic (Steely Dan Tribute Band)
3:00pm – 6:00pm
Monday, May 27
Ghost in the Machine (Sting/ The Police Tribute)
11:00am – 2:00pm
Peace Frog (The Doors Tribute)
3:00pm – 6:00pm
BEER GARDEN STAGE
Saturday, May 25
Detour (Dance music from all decades)
11:30am – 2:30pm
Pink Roach (Hermosa's favorite son, Barclay Roach brings his party to the beer garden)
3:30pm – 6:30pm
Sunday, May 26
Willie's Jam Band (Eclectic blend of songs spanning all genres.)
11:30am – 2:30pm
Safety Orange (Back Again! The sublime sounds of beach ska, beach reggae, and beach rock)
3:30pm – 6:30pm
Monday, May 27
Reactors (Playing the South Bay for DECADES, the Reactors are classic rock)
11:30am – 2:30pm
K-Tel Allstars (Hits, hits, hits! Some you haven't heard in years)
3:30pm – 6:30pm
ACOUSTIC STAGE (Java Man)
Saturday, May 25
Mike Forbes (local sax legend)
11:00am – 2:00pm
Romero y Perez (Flamenco guitar fun!)
3:00pm – 6:00pm
Sunday, May 26
TJ Brinjak (TJ brings an eclectic blend of songs spanning all genres)
11:00am – 2:00pm
Dietz Bros. (All the songs you need to hear)
3:00pm – 6:00pm
Monday, May 27
Katie Caliber (Up and coming star! Do not miss)
11:00am – 2:00pm
Shin Kawasaki (A new take on great songs!)
3:00pm – 6:00pm
Food Court

:

Every year Fiesta Hermosa arranges a buffet of grubby fair food eats inside their Food Court. Funnel cakes, BBQ, roasted corn, Satay Chicken Sticks and more all available for purchase, so plan on showing up hungry.
Charity Beer & Wine Garden

:

An array of different beers and several wines will be available this year. Proceeds go to charities such as the Rotary, Kiwanis, HB Education Foundation, and other civic organizations.
Getting To and Around Fiesta Hermosa
Parking: Parking will be very limited unless you arrive at 6 a.m. with a pocket full of quarters.
Green Shuttle Service: Your best (and much more convenient) option is to use the Fiesta Hermosa Shuttle Service. Free Shuttle Buses powered by green biodiesel run daily from 7:30 a.m. to 7:30 p.m. from the Northrup Grumman Parking Lot at the corner of Aviation Boulevard and 33nd Street in Manhattan Beach. Parking in the lot is also free.
Ride your Bike and Park FREE: Keep Hermosa Beach "green" by riding your bike to Fiesta Hermosa, and park in the guarded lot on the sand just south of the Hermosa Beach Pier. The Hermosa Cyclery will valet park your bike in their FREE lot, and offer air for tires. The lot is open from 10 a.m. to 6:00 p.m. daily.
Venue Map