Check out the South Bay Events' full listing of what's going on in the South Bay for the 4th of July, 2018!
Pre-Fourth of July
This year America's birthday lands on a Wednesday, but that won't stop anyone from letting go on the days leading up to it. With summer in full swing, the South Bay is notorious for being one of the best spots in the country to enjoy the holiday.  Starting June 30th, the South Bay will party like diligent patriots armed with red cups and a gaggle of beach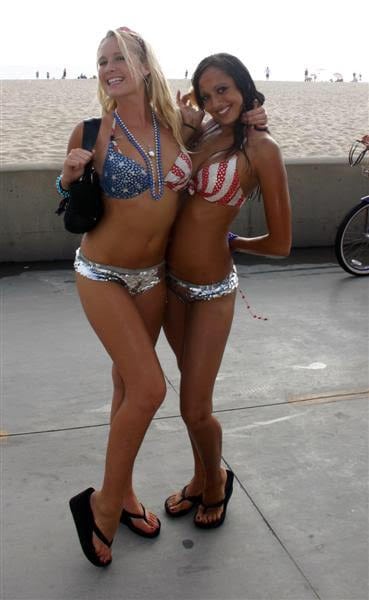 cruisers because it's the Fourth of July extended in the Beach Cities. The legendary Ironman is on again for the 44th year, the only time alcohol is accepted on the beach all year (under heavy police presence, of course).
Here's a breakdown of the weekend's activities. Kicking off the weekend, the Summer of Music Free Concert Series starts up on Saturday, June 30th at the Redondo Beach Pier.
The city of Redondo Beach will be having their Fireworks Show early on Sunday, July 1 with a Fireworks celebration at Seaside Lagoon kicking off at 9:00 p.m. Pre-party for the show at Shade Hotel at their Red, White and Aqua Pool Party from 1:00 – 6:00 p.m. Take in the amazing ocean view and soak in some rays from the rooftop pool. You can upgrade to the Cabana & Bottle Service Package for full VIP status for up to 8 guests – give them a call at (310) 921-8940 to reserve. The cabanas will fill up!
Tuesday, July 3 is  shaping up to be a big day at the Pier, with many bars expecting huge crowds and people taking the day off work. Watermans, Sharkeez, American Junkie, Tower 12 and Patrick Molloys will all be filled to the brim. Alta House (formerly Ocean Bar) will be opening early and closing late. Tuesday night, you can go to a Pre-4th of July party and experience the ultimate 90's cover band Saved By The 90's at Saint Rocke in Hermosa Beach.
Select Beer Store will be hosting their annual 3rd of July Party again this year, featuring Alvarado Street Brewing and delicious BBQ from This Little Piggy Went Smokin'!
Wednesday, Fourth of July
One of the biggest days of the year is coming to the South Bay- the 4th of July! Residents of Redondo, Hermosa, Manhattan Beach and citizens from all around the South Bay celebrate the peak of the summer more so than any other spot in Los Angeles, and maybe the whole U.S.A. From crazy house parties, crowded bars and a swollen bike path plus several Fireworks shows, the biggest party of the year should be experienced at least once. See below for details on the Ironman, the official morning kickoff to the big day. Many bars will be having special events all day as well, including American Junkie, DJs at Alta House (formerly known as Ocean Bar), Sharkeez, Saint Rocke and more. The bars will be busy early, but there are other options away from the mayhem as well, and the Beach Cities have a full lineup this year:
4th of July 5K

Presented by UCLA Health Systems

: The 25th Annual 4th of July 5K will take place in Redondo Beach on Independence Day. The race will begin at 8 a.m., starting and ending at Riviera Village while encountering a panoramic ocean view along the way. The race has become the fastest growing event in the South Bay area, beginning with a few hundred runners in the inaugural event and growing to an anticipated 5,000 runners for this year's race. Rock & Brews PCH will host the post-race party at its location near the finish line. More Info
Abigaile and Alta House will be hosting an all-day bash beginning with a brunch and day party, then moving in to a nightlife party with fireworks viewing from arguably the best view of any restaurant in the South Bay. They will be open early and closing late!
Red, White & Booze Join R/10 Social House upstairs for their annual Fireworks Viewing Party! Get the best views of the Seaside Lagoon show while enjoying some BBQ & Drink Specials – plus Live Music! It will get crowded so call ahead to make a reservation at (310) 798-2500.
The city of Palos Verdes Estates is having their annual Independence Day celebration this year beginning at 9:30 a.m., including a bicycle parade and pie-eating contest.
Rancho Palos Verdes: The city's 43rd Annual Independence Day Celebration will run from 11 a.m. to 5 p.m. at Upper Point Vicente Park, 30940 Hawthorne Blvd. The event will feature live music, arts and crafts, rides, games, hula hoop contests, a petting zoo, and more. Admission is free, and a complimentary shuttle will run from the Hawthorne Boulevard Ralphs store to the lot adjacent the Point Vicente Lighthouse on Palos Verdes Drive West. On-site parking costs $5 per vehicle.
Stay classy with a brunch at the Strand House in Manhattan Beach or relax on the tacky side of King Harbor with a craft beer at Naja's Place. A couple steps down from Naja's is King Harbor Brewing Company's recently-opened Waterfront Tasting Room. Follow the craft beer trend during the daytime inside one of the South Bay's most influential bottle shops at Select Beer Store just off Pacific Coast Highway in Redondo Beach. A stop here during the daytime can elevate your craft beer IQ and at the same time act as a nice whistle stop before the bombs burst in air.
Fireworks Shows: July 1-4
2018 will have the traditional Fireworks shows, which are getting more impressive each year!
On Sunday, July 1, there is a major show inside Redondo Beach's Seaside Lagoon which will be visible from the Pier and Harbor areas and will feature live music and all-day entertainment. With budget cuts canceling the traditional huge shows at Wilson Park in Torrance, the Redondo show will be one of the largest in southern California. The Redondo Beach Independence Day Celebration at Seaside Lagoon starts at 2pm with many activities for kids and families including live bands, arts/crafts, workshops, water activities, dancing, food & beverage and more! Fireworks show will begin at 9pm, choreographed to patriotic music. Tickets available here.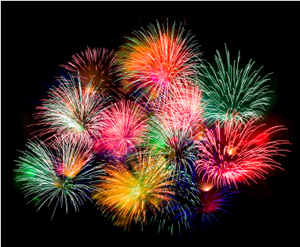 Torrance fireworks: The City of Torrance will be hosting a giant 4th of July fireworks show at the Toyota Sports Complex at the Torrance Civic Center. Tickets will be required to enter the Toyota Sports Complex viewing area. These FREE tickets are available now, and must be picked up in advance from either the Cultural Arts Center Box office at the James Armstrong Theatre (3330 Civic Center Drive) or from the Community Services Department located in the West Annex of City Hall (3031 Torrance Blvd). For more information, call the Community Services Office at (310) 618-2930. All other viewing areas will be 1st com, 1st serve.  The street closures around the area will begin at 5:00 p.m. so plan accordingly. A map of the parking, launch location and more can be found here.
El Segundo fireworks: El Segundo's annual Fourth of July celebration will take place beginning at 10 a.m. in Recreation Park, 401 E. Sheldon St. There will be food, games, contests and music. Other Gundo-like festivities happen throughout the day in this small town, seaside hamlet: water-balloon toss, pie-eating contest, and watermelon-eating contest. Live music from 5 to 7pm and the fireworks will begin at 9 p.m. To buy wristbands for grandstand seats and resident priority seating, call 310-524-2700.
Marina Del Rey: Marina del Rey's firework show is back with a new budget thanks to donations from local sponsors. The roughly 20-minute show starts at 9 p.m. over the Main Channel. The pyrotechnic display will be choreographed to music that will be broadcast over KXLU-FM 88.9 and relayed over loudspeakers in Burton Chace Park. The park is at 13650 Mindanao Way (one block west of Admiralty Way) and Fisherman's Village is at 13755 Fiji Way. To find out more about the show including some of the best spots to see the fireworks, check out their site.
RAT Beach fireworks. The Briles family previously hosted its privately funded fireworks show off the coast of RAT beach near Palos Verdes. After a hiatus, the show is back on this year! Big shout out to the owner of Pedone's Pizza, Mike Russell, for drumming up the funds to allow it to happen in 2018. Held right after nightfall, right after Torrance.
Other Special Events
The city of Manhattan Beach is throwing a pool party at Begg Pool for the kiddies from 10:00 a.m.- 2:00 p.m. For more information, check out their page or feel free to contact Parks and Recreation Department at (310) 802-5448 or via email.
4th of July Dog Parade being held at Eastview Park in Rancho Palos Verdes
Ironman Triathlon:
The most unique event that makes July 4 so legendary around here is the HERMOSA BEACH IRONMAN competition. In this extreme athletic test, participants must run a mile, paddle a surfboard a mile and then consume a 6-pack of their favorite beer!

The first one to hold down their beverage(s) successfully wins, and you may want to keep your distance from the center of the action or you're at risk of getting drenched. For pics of the event's crazy action, check out the Ironman gallery. The action starts at approximately 9:00 a.m. and anyone over 21 is eligible to enter- just make sure you know that close to 1,000 spectators will be monitoring your skills. For those interested in participating, the Ironman is $20 and you will need to bring your own surfboard and 6-pack to join in. Keep in mind that alcohol fines are TRIPLED in Hermosa Beach on the 4th, and you will need to be very discreet if you choose to partake in the activities, especially soon after the Ironman.

Official signups for the Ironman will take place at a location TBD – keep returning to this page for any updates.


                                                                           

 

After kicking off the day in true Hermosa Beach style, the Strand fills up very quickly and by noon it's almost impossible to walk. The entertainment options are plentiful and each year, and in the past there has almost always been an impromptu performance by local legends such as Pennywise. Another South Bay classic event occurs every July 4th between 7th and 8th Street in Hermosa Beach. The annual production is a tribute to Michael Jackson and it has been around as long as we can remember, complete with a light show and authentic dancing. A local lookalike steps out on a balcony high above the beach and puts on a show that is worthy of the King of Pop. With the recent passing of the Gloved One, this year promises to be the craziest show of all time. The show begins as soon as the fireworks end, and you won't be able to miss the huge crowd that gathers in front of the Strand house before showtime. Finally, if you're under the age of 21 and think you can get away with some shenanigans, the HB Police Dept. wants you to think otherwise:

Make sure you stay tuned to South Bay Events for updates of house parties, insider tips and more information as the biggest day of the year gets closer!! Get ready, because you never know what the 4th will bring in the South Bay…